Custom Housings
We can also make housings to special order.Here is an example of a housing for a Minolta APS SLR camera and Flashgun.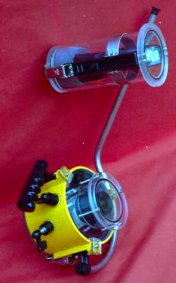 The A.P.S.System of photography uses the new smaller film. There are three choices of frame shapes, and you can remove and replace the film cassette between exposures. The cameras are generally smaller.


This is a housing for the Minolta Vectis S1 A.P.S. camera and flash. The camera has removable lenses, but is very compact. It is fully automatic and will focus underwater.

The electronic flash is fully TTL and is operated by a wireless signal, thus needing no cables between the housings.
The camera housing is manufactured from ABS Plastic with clear Acrylic front and rear lens.
Controls fitted are for Shutter Release and Picture Format Choice. In some instances, we can access the Zoom if required.
The Flash is housed in a clear Acrylic case, and is positioned just forward of the camera lens. There is a Swivel Arm attachment for adjustability. Housing is Double O-Ring sealed.
Depth limitation 55Metres.
We can also make housings for the digital still camera's based on the above description.
Price generally start from £300.00(incl VAT)