SL Rechargeable Diving Light.



Modern Development has enabled us to produce a light as bright as the powerful YL in a package smaller than the classic BL!

This new torch is ideal for Sports Divers, and is already proving popular with Diving Schools and Holiday Companies as well!

The SL is small enough to fit in a B.C.Jacket pocket and its weight will not be a problem for your hand luggage when flying!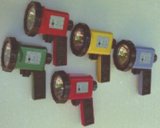 External Components are in Polycarbonate and ABS Plastics, and Stainless Steel, so a rinse in fresh water is all that is needed after use!



The rechargeable NiCd battery pack gives over one hourís light between charges. Simply unscrew the sealed cap at the rear of the body and plug in the mains charger or the 12-volt lead for a 14-hour charge.

The reflector design and the Tungsten halogen bulb gives a spot beam with a degree of side scatter to illuminate peripherals.

Depth tested in excess of 90 Metres. Weight 0.45Kg. Overall dimensions 95mm dia. x129mm x180mm deep.Currently available in Yellow, Orange, Blue, Metallic Green

and now Fluorescent Pink! More colours may be available later.

Price £ 74.00 (incl VAT)
includes Mains Charger & 12V charge Lead

Spare Bulb £11.02 plus VAT (£12.95)